So, you've been accepted into University onto the marine science course you wanted, or perhaps you've just graduated, Great! This is a fantastic step towards your future as a professional biologist. However, this is not the only step you can take to make sure you are building the strongest foundations for your chosen career path.
Field courses provide excellent opportunities to engage students with their subject. At University you learn a theoretical baseline of knowledge through lectures and seminars. BUT not all University courses offer students the opportunity to apply this knowledge in the field with hands on experiences. This practical application of skills is vital in order to build confidence in your understanding of a subject and for personal development as a biological scientist. In this blog we have compiled a list of 5 benefits of investing your time and money into a field course internship along side your University course.
1.Get to know YOUR interests and what YOU want
A summer field course internship is a fantastic way of getting a feel for your chosen career and to learn the basics of what is expected of you as a field biologist.
You will not only learn and develop these vital field skills, you will learn what your good at, what you're not so good at and how you react under different conditions and in different environments. During a marine science field course, you will find yourself under pressure, in wild and unusual situations and having to make decisions in the field. The idea of a field course is to give you as much responsibility and room to grow as possible, under good instruction so YOU understand the challenges and get satisfaction and grow your confidence as a field biologist.
This hands-on experience in a novel environment gaining new experiences will give you the best insight and understanding of what you want and like, and build your self-confidence and skill set.
2. Enhance your resume
Having a strong resume is vital to being successful in future employment or further education prospects. These days competition is hot so you need to stand out from the crowd and show that you're not only a good academic student, but willing to get out there in the field and put yourself into new experiences and learn new skills. Work experience is very important and attractive to employers, it shows your willing to invest further in your career development and are capable of applying the knowledge gained in your degree course.
3. Learn new skills in new ways
Joining a summer field course internship is the best way to learn new skills often in new ways. You will be interacting with different people, different teaching staff, other students on the course with various backgrounds, and the locals in the country. You can and will learn from all of these people. Field courses are much more practical based than many University courses, which many people find much more engaging and benefit from this format much quicker. Its exciting, engaging and novel. You will leave your field course with a whole new set of skills you didn't have before as well as having developed skills you perhaps already had.
Often students have that 'magic moment' when they finally understand and learn something they have perhaps been taught before but didn't fully understand at the time. Having the theory directly alongside the practical application of skills and small group sessions with more trainer contact time really helps reinforce new knowledge and learning outcomes.
4. Networking
You may have heard the term 'its not what you know but who you know'. Well, this is science so off course what you know is very important, but it is also true that knowing the right people in the field could be hugely beneficial to your future opportunities. Direct connections to people already working in your field of interest who have years of networking and connections at their fingertips might just be the link for you to one day find a great job. This is very subjective and of course still heavily relies on your resume and prior education, but sometimes you just need that lucky break or that friend of a friend to help you out. Spending time with like minded people, people in closely connected fields and different institutions often creates collaboration or employment opportunity. You never know who you might meet.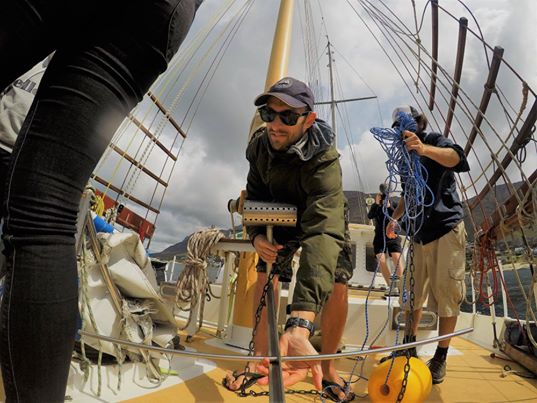 5. Gain further appreciation of the natural world
To get anywhere in life, you need to be driven, passionate and ambitious in what you do and how you do it. But it's also important to take a step back and remember why we are chasing the dream and why we are passionate about what we do. Getting out in the field and experiencing nature, experiencing new ecosystems and unusual animals is what we are all passionate and interested in. A marine science field course internship will give you this by the bucket full. What better way to spend your summer on an adventure of a lifetime, diving, spending time on boats, exploring new spots, meeting new people and all along developing and learning new skills which will make you more employable at the end of it all… if you ask me, it's a no brainer.
If you are interested in joining the Cape RADD marine science SCUBA field course to enhance and develop your dive and field skills check the Cape Research And Diver Development click the button below