Cape Town, South Africa – A year-round awesome destination
I will always remember as a child a knock on my bedroom door from my mother who seemed extremely excited to tell me something, "I've just won a family holiday to South Africa, were going to South Africa!". Unbeknown to me she had been talking on the radio and had bagged us a dream family holiday. Excited was an understatement, I was absolutely thrilled. Even more so, did this mean I could miss school today? Apparently not.
Fast track a fair few years and I found myself booking a solo flight back; I immediately fell in love with this beautiful country as a child and was itching to return. In fact, I have been back to SA numerous times exploring different areas, but making sure I always spend time in Cape Town because I love it.
Cape Town, situated on the beautiful western coast of South Africa, has come a long way since the apartheid. It is becoming an increasingly popular destination for all sorts of holiday goers and explorers; the city has a chilled vibe, the people are awesome and there is so much to do. Queue nature and wildlife lovers and enthusiasts because there is no shortage of incredible wildlife, Sea-life and picturesque scenery.
Getting there
Cape Town International Airport (CPT) primarily serves Cape Town. I usually fly from London Heathrow, there are numerous airlines to choose from, you can fly direct with British Airways or a cheaper option would be to stop in Johannesburg for a short connection. Bear in mind that when stopping in Johannesburg this is your first port of entry, therefore, you will need to collect your luggage and recheck in. The airport is easy to navigate, an airport porter might help escort you to where you need to be and will expect a small tip, you can kindly say you do not need help!
Some UK airports do not have direct flights. When I flew from Manchester with KLM I had short stop in Amsterdam. Multiple stops are sometimes the cheapest option, however not always the most comfortable with long waits in the airport – you can do additional stops through Europe, Africa or the Middle East. Depending on the date and route of your journey a return flight from the UK will cost between £500 and £900.
All flights to Cape town, even with connections, have been really easy and actually gone very quickly. The airport is easy to navigate around and up to date it has been quick getting through immigration. My top tip travelling from the UK would be to get a late evening flight, so, if you are good at sleeping on planes like me, you can wake up at your destination (woohoo!). The time difference is only 1 or 2 hours ahead from the UK depending on the time of year.
Remember to check your local gov website for travel information such as passport validity and visa requirements before travelling. As a British citizen you do not need a visa if you are visiting for tourism purposes for up to 90 days.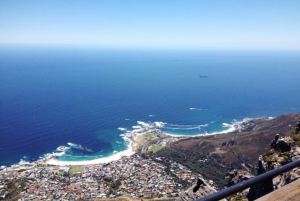 Getting around
The best way to get around Cape Town is using Uber or renting a car. There are super cheap car rental companies such as fun car based in Cape Town, just be aware of distance limits. You can also find taxi/transfer companies that will take you to the surrounding areas or tourist spots down the western coast.
You will find a few tuk-tuks around the tourist areas in the city centre. These are hard to find but certainly a cheap option to get around.
When to visit
Cape town, and South Africa in general, is a year-round destination. If you are looking for a Cape Town beach holiday then the summer months are November-February, temperatures peak from December-February and so this can be a very busy time of year. The wind tends to calm down around February so I would say the best time would be end of January-April as the weather is still great and places are less crowded.
You will still get beautiful weather for the remaining months. Days that aren't too hot and sunny will be perfect for hiking. The later months are also best for seeing the whales. The whale season tends to be from June-December, there are good whale watching companies down the western coast, you will often spot whales from ashore. Water visibility for shark cage diving tends to be best from February-September in False Bay, March-September in Gansbaai and April-September in Mossel Bay. Scuba diving is popular and fantastic all year long, there are seasonal variations in location and weather conditions permitting.
Things to do
The city has an array of restaurants, bars and cafes, you are never far from somewhere unique or quirky to eat and drink and you are likely to find great live music. There are always events happening around Cape Town so be sure to look online and check out any music festivals, art, nature or sports events going on.
Cape Town has lots of things to do and places to explore. The surrounding areas also offer fantastic wildlife, nature walks and unique things to do.
Here is a list of some favourite things to do and places to visit:
Hike Skeleton Gorge

: this hike starts in the Kirstenbosch gardens, there are a few routes up. A walk up with breaks will take 1hr 30min – 2hrs.

Walk up

Lions Head

Visit

Robben Island

Spend the day in

Camps Bay

: explore, eat, drink and chill on the beach

The Bungalow in Camps Bay: Great to watch the sunset, you will need to book in advance for dinner

The Crypt

, under St Georges Cathedral: eat, drink and listen to live Jazz

Kirstenbosch botanical gardens

: as well as spending a day in the beautiful gardens look online for any upcoming music events where you can take a picnic
See the best places to go in Cape Town with a plan including
Cape RADD
The Waterfront: Spend the day exploring, shopping (my favourite is the watershed), enjoying street entertainment and live music. There are lots of places to eat and drink – I always enjoy looking around the V&A Food Market. A lovely and special place to stay is at the waterfront village apartments

Enjoy the

Sandy bay nudist beach

near Llandudno: a beautiful beach, you don't have to get your kit off!

Go

scuba diving: I would recommend scuba diving with Pisces divers

Go

snorkelling: Simons town has some great Kelp forests to explore and if you snorkel around waters edge you might spot some penguins. Cape RADD offer a snorkelling (or diving) day where you can spend the day as a Marine Biologist.

Go

surfing

: There are plenty of spots to enjoy surfing and popular beaches will offer board and wetsuit rentals

Drive along the

False bay

coast

Visit

Muizenburg

: explore the shops and cafes, enjoy the beach and surf

Visit

Kalk Bay

: explore the quirky shops and cafes

Visit

Simon's Town

: explore the town, the harbour and the museum. You can go on various nature walks, enjoy the beach (my favourite is Waters Edge beach). You can also go diving, snorkelling and paddle boarding.
Boulders Beach

, in Simons Town: see African penguins in the wild. Spend time at the beach or view them from the viewing platform

Silvermine national park

: Silvermine is part of the Table Mountain national park and is located on the Cape Peninsular. There are good hiking routes here with fantastic views.

Paddle boarding

: you can paddle board in many nice locations. At the most popular beach locations you will find board rental companies.

Go to a sports event at

Cape town city stadium

: Check online for events

Go

Kite surfing: I recommend doing this with High Flying Monkeys based in Bloubergstrand, they will also organise trips in other location
SUP Yoga

: Stand up paddle board yoga has become increasingly popular in Cape Town, this is a great way to start your day

Experience a

Safari

: I have done many safaris in South Africa, some down the western coast. I have not experienced a safari close to Cape Town, however, if you research and look at reviews I am sure you will find a great one, some are only a few hours from the city. Gondwana Game Reserve near Mossel Bay was very special, this is a Luxury game reserve.

Harbour House

: A great seafood restaurant situated in Kalk bay and at the V&A Waterfront

Visit

Hout Bay

: Explore the shops, restaurants, bars and cafes. Enjoy the beach, a nature walk or a hike up the mountain. In Hout Bay you can go snorkelling with Cape Fur Seals

Go wine tasting at the

Vineyards

: There are plenty of vineyards to choose from. Some offer cheese and wine tasting or chocolate and wine tasting.

Visit

Stellenbosch

: There are lots of vineyards surrounding Stellenbosch, there are also nature reserves with beautiful walks.

Visit

Franschhoek

: you will find beautiful old vineyards with stunning architecture. The views are stunning here and there are many nature walks. You can take a hop on hop off tram around the vineyards.
Springfontein

: this is a beautiful wine estate in Stanford, further down the western cape. The restaurant here is fantastic it is run by a Michelin starred team. You can also stay at the vineyard. You will need to book in advance for dinner

Stanford hills

: this is a boutique wine farm in Stanford. The restaurant here is relaxed and the views are beautiful. You can also horse ride from here.

Klein river cheese farm

: the farm is based in Stanford. You can buy one of their ready made picnics and enjoy their garden with beautiful views

Noordhoek food market: at the Cape peninsula vineyard, every Thursday from 4.30pm-8.30pm

Experience

shark cage diving: there are many shark diving companies you can chose from, one not too far from Cape town centre is Shark Explorers in Simon's Town.
Cape to Cuba

, Kalk Bay: you can go for a drink here or eat in the restaurant. It has a good atmosphere and there is usually live music

Enjoy a

Braai

: It would be hard to spend time in South Africa without having a Braai

Whale watching: during whale season you must go whale watching. There are lots of whale watching companies. I recommend whale watching in Gansbaai
Cape point nature reserve

: part of the Table Mountain national park. The cape point nature reserve is great for wildlife spotting and there are lots of beautiful walks, hikes and bike routes.

Drive

Chapmans Peak

: Chapmans peak is a toll road that links the southern peninsular to Cape Town city. It is a beautiful drive and worth doing, the tariff for a car is R 45 (2017).

Explore the

garden route

: the garden route is a 300km route that stretches from Mossel bay in the Western Cape to Storms River in the Eastern Cape
What to bring
Camera with different lenses and tripod for those awesome wildlife shots

Go pro / action / underwater camera

plenty of SD cards

Rucksack for day trips/hikes

Waterproof bag for boat trips

Layers of clothing as weather can vary and change (waterproofs etc)

Walking boots for the hikes

Swimwear, wetsuit, sun protection/rash vest

Snorkel gear if you have some

Suncream – the sun is strong!

Sunnies and a hat

Spare/Cheap unlocked mobile phone is handy for long trips so you can get a South African sim card and just top up at convenience shops/petrol stations

Large Water bottle (saves buying throw away plastic bottles)

Binoculars

Micro towels are handy for impromptu nature swims

First aid kit is always handy

Currency
Enjoy the adventure,
Jessie x